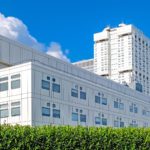 With financial uncertainty becoming more commonplace, hospitals and facilities managers alike are coming under ever increasing pressure to reduce preventative maintenance programs to the bare minimum.
But what happens when important building infrastructure isn't maintained and pumps fail?
Well, when a circulator pump failed at a large midlands hospital earlier this month, administrative staff were left fearing that their lifesaving MRI scanner equipment would be out of commission - potentially causing massive disruption.
Thankfully, the hospital maintenance manager was able to quickly find the necessary pump on tradepumps.com, and after contacting our sales team, was relieved when we were able to deliver the unit that same day.
This quick turn-around ensured scheduled operations and procedures could go ahead as planned, removing the need for patients to be transferred or important treatments being delayed.