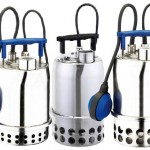 Chris from tradepumps.com reviews the all stainless steel Ebara Best One submersible drainage pump
Click here for more information on the Ebara Best One
Video Transcript
Hello, I'm Chris from tradepumps.com, the helpful online pump specialist. This review showcases the all-stainless steel Ebara Best One submersible pump. The Best one is built to a very high specification. The standard version can handle solid particles up to 10mm in diameter and the VOX version can handle up to 20mm.
The cable mounted float switch can be adjusted to suit the installation. Because of its stainless steel construction, the Best One can handle liquids up to 50 degrees centigrade. This makes them very popular in boiler rooms and on industrial processes.
We keep these in stock in 110 volt, 230 volt and 400 volt three phase versions. The single phase versions are available with these cable mounted float switches and also tube float switches for when space is tight.
The maximum head pressure these pumps will deliver is 9 metres, and the maximum flow rate is 165 litres/minute. This is a very impressive performance from just a 250W motor.
Remember, a tradepumps.com we are here to help you with everything pump-related, so please get in touch.
FREEPHONE 0808 250 0669
BUY Online today https://www.tradepumps.com/ebara-best-one-MS